GIFT CERTIFICATE
WSQ provides Gift Certificates for purchases available from our store.
To download the GIFT CERTIFICATE Payment form please click HERE
Once payment is made a GIFT CERTIFICATE is issued.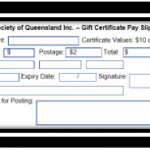 WSQ SHOP
With the recent relaxation of COVID-19 restrictions which allow for non-essential shopping, the Management Committee has decided to allow a limited operation of the WSQ Shop, whilst still ensuring that all social distancing, hygiene requirements etc. are adhered to.  This limited operation of the shop will allow members to replenish dwindling consumables etc.
The shop will now operate on WSQ's version of "Click and Collect" along the following lines:
Members will need to place orders by email to WSQ Shop at wsq@iinet.net.au or by phone to John Reed (0414 661 395) or to Don McMillan (0439 704 622).


The order will be confirmed by email/phone together with the cost.


Pre-payment will be required via credit card or deposit to WSQ's account; full details will be provided with the order confirmation.  Pre-payment will avoid handling of the EFTPOS terminal and cash.


A pickup time will be advised with the order confirmation. At this stage, it will be on Saturday mornings.  The order will be taken out to members in the carpark.
If a member is socially isolating or self-quarantining and is unable to come to WSQ Hall, we will endeavour to deliver to his/her house.  If you need to use this service, please contact John Reed or Don McMIllan.
Please note that in order to protect the shop volunteers and members, access to WSQ Hall will not be allowed.
Hopefully, these arrangements will allow you to continue your woodturning/woodworking activities at home.